Why support locally owned businesses?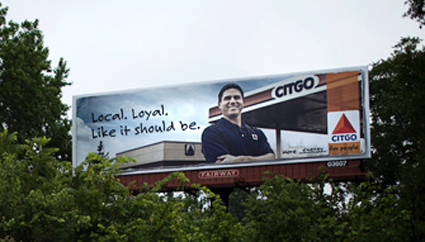 Recently we stumbled across a picture of a Billboard on the Internet that didn't sit well. Along a major highway in Durham, North Carolina Citgo ran a billboard stating "Local. Loyal. Like it should be." Now we aren't from North Carolina, but when we think Local Business, Citgo is not the first that comes to mind. We did some research and found out that Citgo is a Venezualen company and their corporate offices and refineries are located in Houston, TX. It was odd to us that a Venezuelan Company with offices in Texas was promoting it's local roots in North Carolina. After digging a bit more we learned that this billboard is a part of their new marketing campaign, launched in June of this year, which makes efforts to showcase local heroes in the communities Citgo stations are located.
Citgo is hopping on the "Buy Local" bandwagon by proxy, showcasing actual heroes in local communities that have their gas stations. They are hoping that it rubs off on their own image, and increase market share in those areas by appealing to consumers who are looking to support local. Much like the terms Natural, Organic, and Green have been tarnished in recent years, with the Global Economic crisis still in full swing large corporations are looking to seize upon the next consumer jargon, caring very little what the actual terms mean, as long as they can utilize them to their benefit.
As Farm and Small Business owners, it is important for us to keep the record straight as far as what Local means to each and every one of us. Supporting Local Businesses is a lot more than the next big marketing buzz, it is a way of life that strengthens are local communities. When our neighborhoods, communities, and towns are all doing well, we do well ourselves.
We are big advocates of networking in your Local communities and teaming up with other local businesses who cater to similar demographics. By working together in this economic down turn, we can pool our resources and ideas to ensure we are all better positioned for the economic recovery.
We should all make it one of our marketing initiatives to teach our communities the true meaning of supporting Local businesses and how it strengthens the prosperity of the entire region.
Local Character and Prosperity - In an increasingly homogenized world, communities that preserve their one-of-a-kind businesses and distinctive character have an economic advantage.
Community Well-Being - Locally owned businesses build strong communities by sustaining vibrant town centers, linking neighbors in a web of economic and social relationships, and contributing to local causes.
Local Decision-Making - Local ownership ensures that important decisions are made locally by people who live in the community and who will feel the impacts of those decisions.
Keeping Dollars in the Local Economy - Compared to chain stores, locally owned businesses recycle a much larger share of their revenue back into the local economy, enriching the whole community.
Job and Wages - Locally owned businesses create more jobs locally and, in some sectors, provide better wages and benefits than chains do.
Entrepreneurship - Entrepreneurship fuels America's economic innovation and prosperity, and serves as a key means for families to move out of low-wage jobs and into the middle class.
Public Benefits and Costs - Local stores in town centers require comparatively little infrastructure and make more efficient use of public services relative to big box stores and strip shopping malls.
Competition - A marketplace of tens of thousands of small businesses is the best way to ensure innovation and low prices over the long-term.
Product Diversity - A multitude of small businesses, each selecting products based, not on a national sales plan, but on their own interests and the needs of their local customers, guarantees a much broader range of product choices.
Connect with other Businesses and Farms in your area using: Local Harvest , Merchant Circle, Hi!Local
Further Reading: Networking, Networking, Networking! , Bringing Your Products to Market, Local Marketing

---

Alpaca Radar
NEAFP is happy to announce that we are introducing a new feature to our monthly newsletter, the Alpaca Radar. Each month we will be choosing a handful of Blogs, Twitterers, and other online Resources that we think really showcase how beneficial online networking can be.
Alpacadero Alpacas - "Ever wondered how you could own your own alpacas, but you live in the city and don't own acreage? You can enjoy all the benefits, and there are many, of these amazing creatures without changing your lifestyle by agisting (boarding) them at an established alpaca farm. In this blog, I hope to help open the door to others like me who, for whatever reason, are living in the city but would otherwise love to have their own alpaca farm."
Poop Scoop - Alpaca Blog - "All the scoop on Brookfarm you could ever want to know, and then some - mostly all alpaca, but with a few family milestones we couldn't omit! We hope you enjoy following along with us on our journey. So, enter if you dare!"
Have an Alpaca Blog, Twitter, or other other Resource you would like to showcase in our NEAFP Notes? Let us know by contacting Support with your link and a brief description of your site, farm, or service.


---

Looking for a Local Farmer's Market?

Click through to search LocalHarvest's 3000 Markets!

Get Ready for Spring and Summer!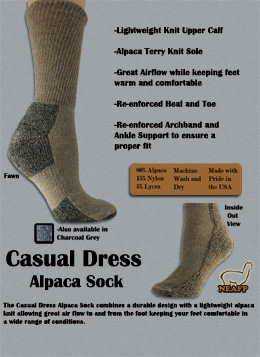 Our New Casual Dress Socks combine the durable design of our Survival Socks with a Lightweight Knit - Check them out today!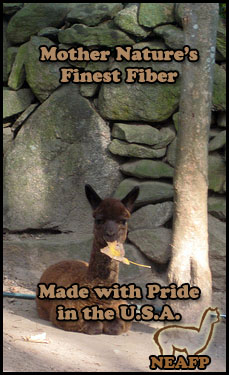 www.neafp.com - The New England Alpaca Fiber Pool
Copyright © 2009